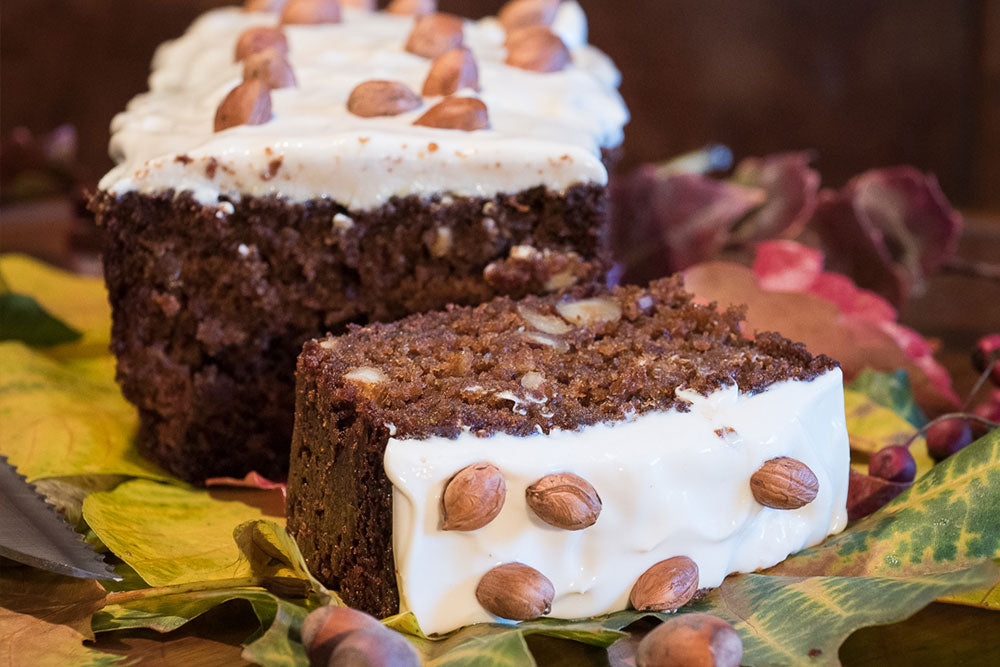 Carrot Cake with Carob Molasses and Orange Blossom Water
Ingredients:
For Cake:
200g of grated carrots
90g of brown sugar
80g of

carob molasses

180ml of vegetable oil (sunflower or colza)
3 eggs
50g of raisins
50g of

dates

or

whole figs in syrup

70g of hazelnuts
180g of flour
1 pack of baking powder
1 tsp of baking soda
1 tsp of cinnamon powder
½ tsp of 4 spices
For Icing:
100g of mascarpone
100g of cream cheese (ex: St Morêt or Philadelphia)
1 Tbsp. of

orange blossom water

40g of sugar or powdered sugar

Preparation:
Preheat oven to 180°C.
Peel the carrots, wash them and grate them. Cut the fruits in syrup into small pieces and crush the hazelnuts.
Place sugar and carob molasses in a bowl then add eggs and oil; mix well. Add carrots, raisins, fruits in syrup, hazelnuts and mix again.
In another bowl, sift into it the flour, baking powder, baking soda and spices. Mix well with a fork until there are no lumps.
Pour this mixture over the carrot mixture and stir gently with a wooden spoon.
Pour the dough into the cake mold (previously buttered and floured) and bake for about 40 to 45 minutes. To check on it towards the end, insert a knife into middle, it should come out dry.
Unmold and let cool.
For icing:
In a bowl, mix the cream cheese, mascarpone, sugar and orange blossom water.
Beat for a few minutes using a whisk. Wait for the cake to cool completely before frosting it.
Spread a part on top and keep another part in a bowl to offer it when serving!