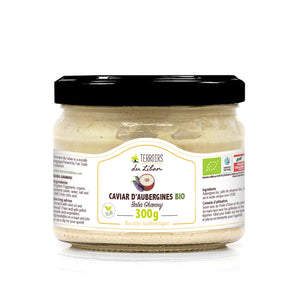 Product Description
Ingredients
How to use
Organic Baba Ghanouj is an oven-roasted eggplant-based dip with savory smoky notes. It is a much-loved Lebanese appetizer made with organic eggplants grown in an organic farm located in northern Lebanon in the sunny countryside of Batroun. Eggplants are widely used in a number of Lebanese dishes because of their versatility and high nutritional value. Our organic Baba Ghanouj dip is vegan and gluten free. It makes a great party appetizer, particularly for guests on special diets.
Organic eggplant (65%), organic SESAME paste (20.5%) (origin: Egypt), water, salt, acidity regulator: citric acid.
*May contain traces of PEANUT, ALMOND, MILK and GLUTEN.
Served with olive oil and bread. Pairs well with grilled meats and vegetables. Spreadable on a toast and pita or as a dip for your aperitif.