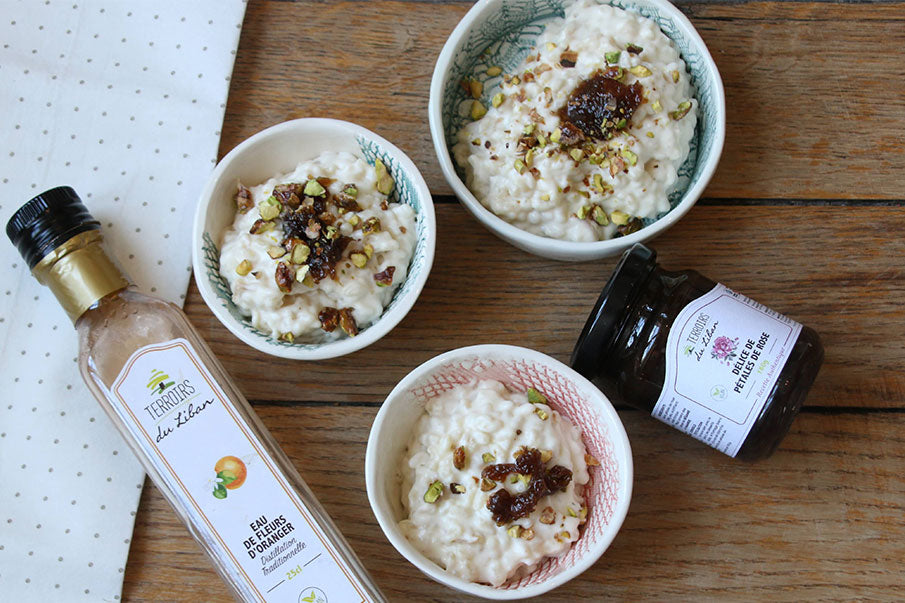 Rice Pudding with Orange Blossom Water and Rose Petals Jam
Difficulty: Intermediate 
Preparation: 55 minutes
For 4 persons
Ingredients:
200g semi-complete, round Camargue rice
100g of cane sugar
1L of milk
20cl of full cream
1 tbsp of rose petals jam
2 tbsp of

orange blossom water

100g of pistachios and 1 bit of sugar 
Preparation:
In a saucepan, pour the milk, cane sugar, and rice.
Cook over medium heat, stir regularly for about 40 min.
Pour the cooked rice into a mixing bowl and let cool.
Whip the cream in a food processor (the cream, the stainless steel bowl and the beaters must be cold). If not, whip the cream by hand using a whisk, set in a cold container.
Caramelize the pistachios in a frying pan with sugar and let cool on a plate or flexipan. 
In the meantime, mix the orange blossom water with the cooled rice pudding, then with the help of a spatula incorporate the whipped cream and the rose petal jam.
Coarsely crush the pistachios.
Serve in bowls with the crushed pistachios and rose petal jam.
Enjoy !