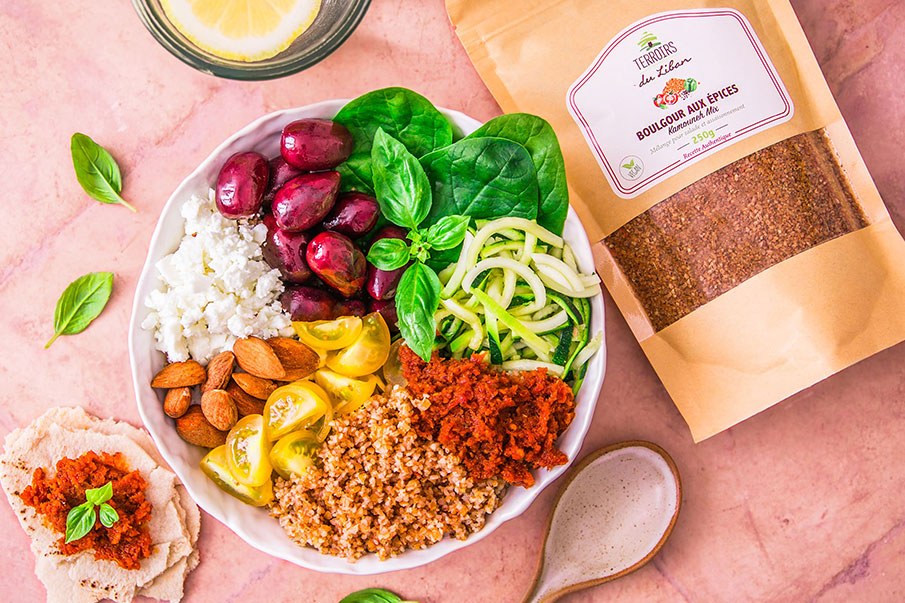 Kamouneh Bowl
Difficulty: Easy 
Preparation: 30 minutes
For 2 people
Ingredients:
200g of

kamouneh

1 handful of baby spinach
1 small zucchini
4 tbsp of black olives
50g of feta cheese
2 tbsp of almonds
10 cherry tomatoes
20 basil leaves
5 tbsp of

olive oil

1 tbsp of pomegranate molasses
10 dried tomatoes
40g of parmesan cheese
1 chopped garlic clove
1 tsp of pine nuts
1 pinch of Espelette pepper
1 pinch of salt and pepper
Preparation: 
In a bowl, place the kamouneh and cover with boiling water. Let sit for 15 min then give it a stir and season with 2 tbsp olive oil, a pinch of salt, pepper and a tbsp of pomegranate molasses. Set aside to cool.
Blend together the sundried tomatoes, pine nuts, Parmesan cheese, Espelette pepper, chopped garlic clove, half the basil leaves, 3 tablespoons of oil, and a pinch of salt.
Cut the zucchini with a vegetable slicer to obtain a noodle cut (or use your peeler).
Cut the cherry tomatoes into quarters.
In a bowl, add the seasoned kamouneh, sun-dried tomato mixture, crumbled feta cheese, olives, almonds, cherry tomatoes, zucchini, and finally sprinkle with the remaining basil leaves. Give it a good mix and It's ready to enjoy!
Chef's tip: You can replace the sun-dried tomato mixture with our hummus!