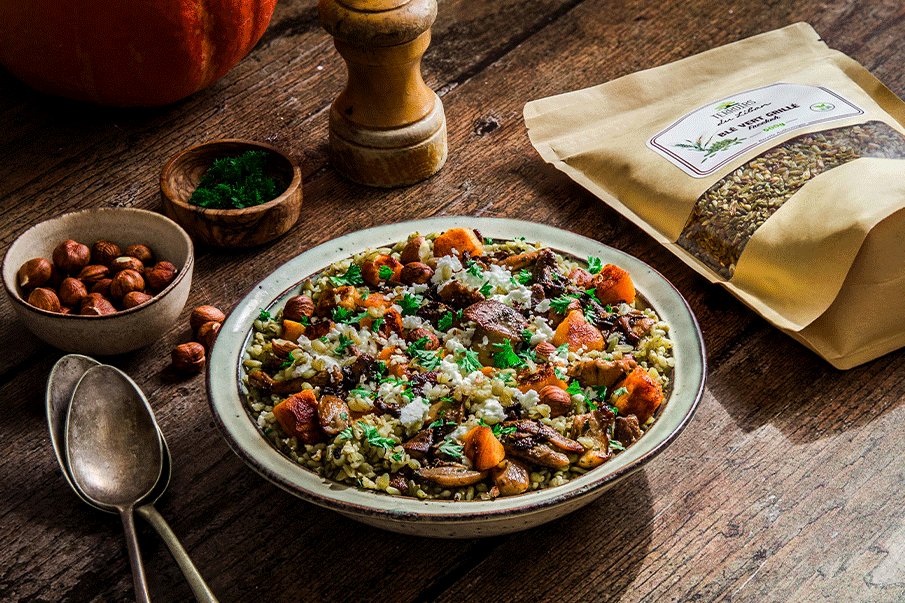 Freekeh & Pumpkin Gratin
Difficulty: Easy
Preparation time: 30 mins
Cooking time: 1h30 mins
For 4 people
Ingredients:
500 g

freekeh

½ pumpkin
1 handful crushed hazelnuts
400 g mushroom
300 g fresh cheese
1 bunch parsley
25 cl fresh cream
1 onion
2 cloves garlic
3 tsp

olive oil

1 pinch salt and pepper
Preparation:
In a pot of boiling salted water, cook the freekeh for 45 minutes then set aside.
Preheat your oven to 180 degrees.
Mince the onion and garlic then peel and cut the pumpkin up into pieces.
Crush the hazelnuts and chop the parsley.
In a heated frying pan, pour a few drops of olive oil, the garlic, the onion, and fry the mushrooms and the pieces of pumpkin for 15 minutes then set aside.
Place the freekeh, fresh cream, vegetables and fresh cheese in a gratin dish and bake at 180 degrees for 25 minutes.
Once out of the oven, add the hazelnuts, parsley, salt and pepper.
It's ready!