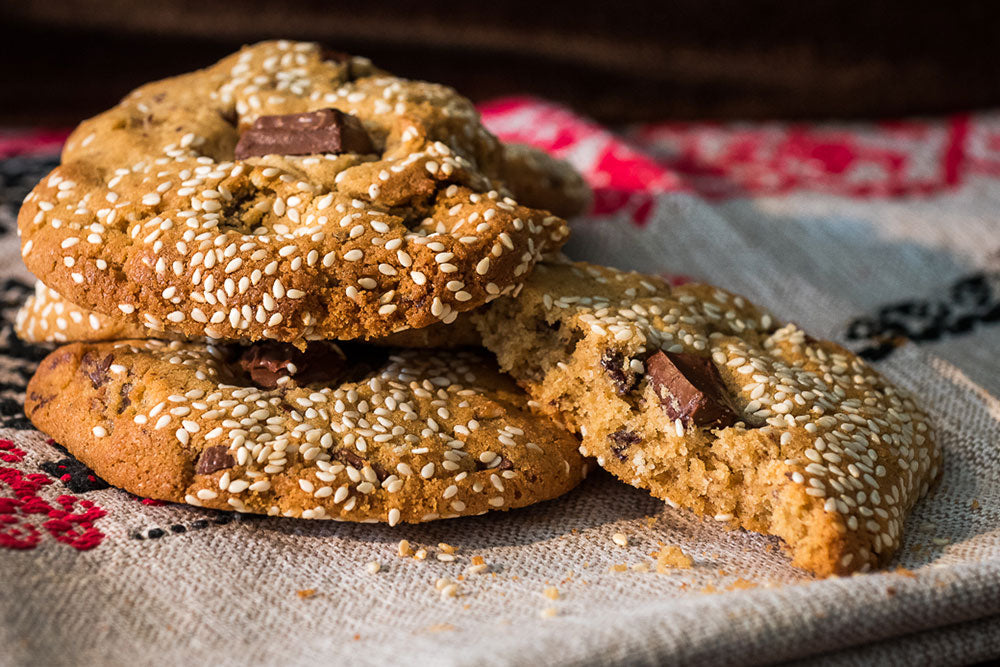 Tahini & Chocolate Cookies
Recipe for 12 large cookies
15 minutes of preparation
2h of cooling in refrigerator
15 minutes of baking

Ingredients:
120g of salted butter at room temperature
100g of brown sugar
80g of muscovado powdered sugar (or white sugar)
120g of tahini
1 egg
180g of T65 flour
1 tsp of baking powder
100g of white milk chocolate chips or chunks
50g of dark chocolate chips or chunks
Sesame seeds
50g of white chocolate squares, cut in half

Preparation:
In a bowl, whisk together butter, sugars and tahini. Add the egg and mix well.
Add the flour, baking powder and mix to obtain a homogeneous dough. Stir in the chocolate chips (milk and dark).
Using a spoon (ice cream or salad type), shape 12 balls into large cookies of about 70g. Roll them in sesame seeds and press a few squares of milk chocolate on the surface, then film them.
Keep the wrapped balls in the refrigerator for at least 2 hours, ideally overnight.
Preheat oven to 200°C. Place dough balls in distant rows on a baking tray lined with baking paper.
Place in the oven and immediately lower temperature to 180°C.
Bake them for about 15 minutes, or until edges are cooked through and centers are still slightly soft.

Let cool and enjoy!

Recipe by : Lucie Venet.
Photos : Joël Dodeman