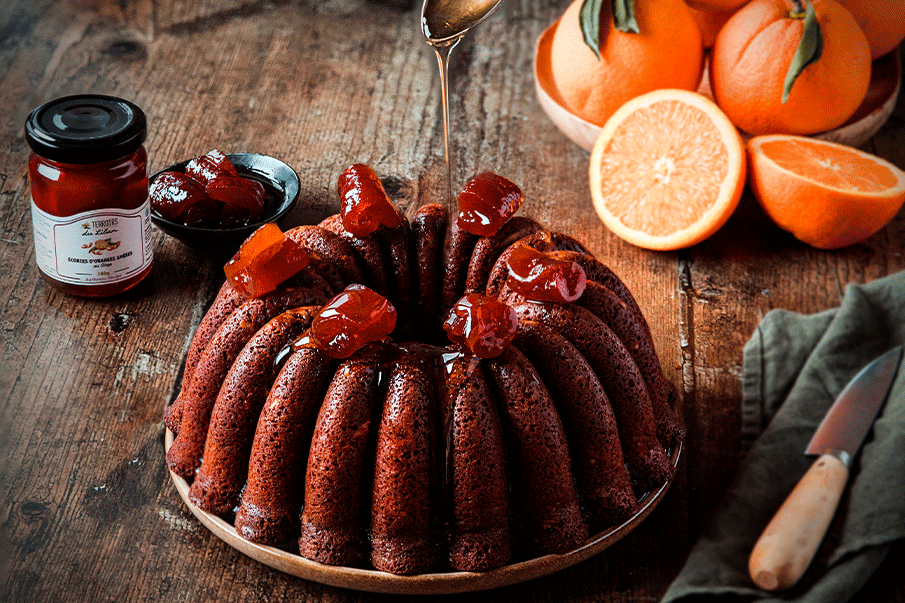 Chocolate & Bitter Orange Peel Bundt Cake
Difficulty: Easy
Preparation time: 30 mins
Cooking time: 40 mins
For 6 people
Ingredients:
250 g flour
50 g melted butter
150 g brown sugar
200 g dark chocolate
1 orange
1 packet baking powder
5 eggs
10 cl milk
1 pot of

bitter orange peels in syrup

1 bundt cake mould
Preparation:
Preheat the oven to 180°C.
With a brush, generously coat the sides of the mould with melted butter.
In a container, mix the melted butter and the chocolate.
In another container, mix the sugar and the eggs then whisk until you get a foamy mixture.
Add the flour, the baking powder and the butter-chocolate mixture, then mix.
Add the milk and mix.
Squeeze the orange juice and add to the mixture.
Pour the mixture into the mould and bake in the oven for 40 mins.
Take your cake out of the mould and place bitter orange peels on top.
Pour the orange bitter peel syrup over the cake.
It's ready!