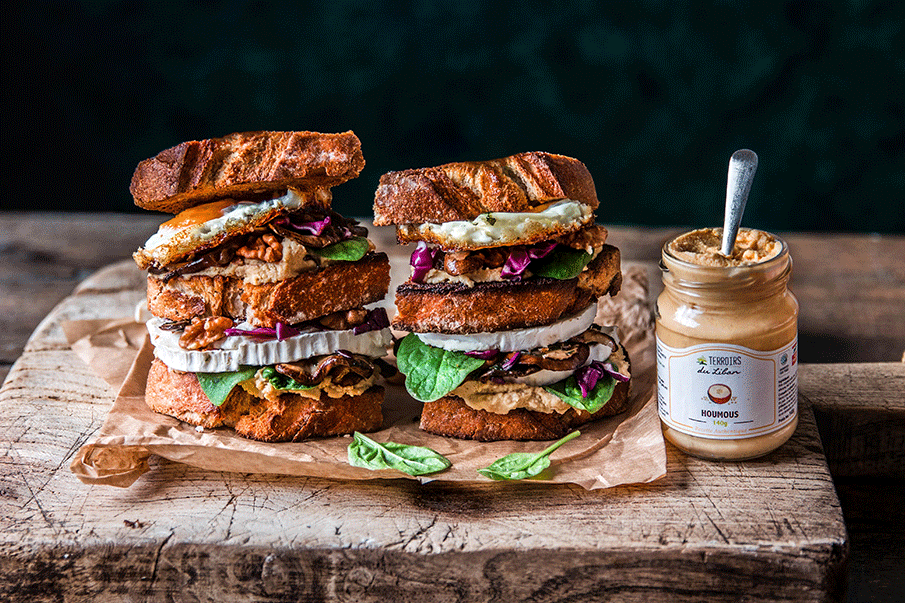 Autumn Sandwich with Hummus
Difficulty: Easy 
Preparation and cooking time: 10 minutes
For 1 sandwich
Ingredients:
2 nice slices of country bread 
2 tablespoons of

hummus

1 handful of mushrooms 
1 egg 
6 nuts
1 slice of fresh cheese 
1 handful of spinach leaves
1 handful of red cabbage
1 tsp

olive oil

1 pinch of sea salt and pepper
Preparation:
Toast the bread slices in a toaster then spread with hummus.
In a hot pan, pour a few drops of olive oil and fry the mushrooms for 5 minutes then set aside.
In a frying pan, cook the fried egg and set aside.
Mince the red cabbage and cut the nuts into pieces.
On your slices of bread, place the spinach leaves, fresh cheese, walnuts, egg, red cabbage and mushrooms.
Add a pinch of sea salt and pepper to the sandwich, it's ready! 
Enjoy !