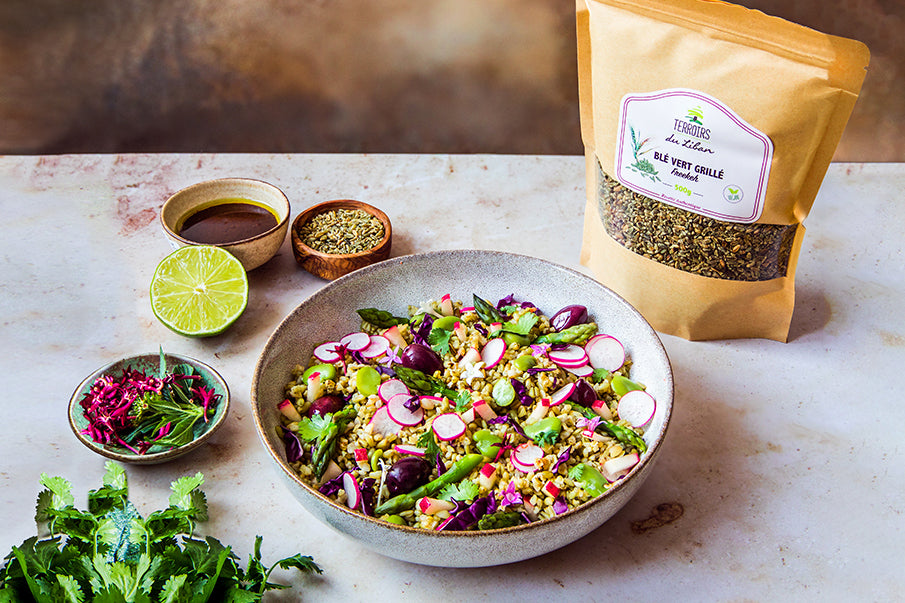 Spring & Veggie Freekeh Salad
Difficulty: Easy 
Preparation: 15 minutes
Cooking Time: 50 minutes
For 4 people approximately
Ingredients:
300 g of freekeh
50 g of asparagus
50 g of peeled fava beans
150 g of raw vegetables: radish, red cabbage
1 apple
40 g of fresh chopped coriander
1 clove of chopped garlic
3 tbsp of

olive oil

1 tbsp of lime juice
1 tbsp of pomegranate molasses
1 pinch of salt and pepper
Preparation: 
In a pot of boiling salted water, cook the freekeh for 45 min then set aside to cool.
Chop the radishes, red cabbage, apple into small pieces and remove the stems of the asparagus.
In an oiled frying pan, add the chopped garlic, cook the asparagus and the fava beans then set aside to cool.
In a bowl, mix the olive oil, lime juice, pomegranate molasses, salt and pepper.
In a large bowl, place the freekeh, raw vegetables, apple, vegetables and pour the bowl of sauce.
Add the chopped coriander and it's ready !
Chef's tip: To brighten up your plate and refine your taste buds, add a few seasonal edible flowers !
Enjoy !