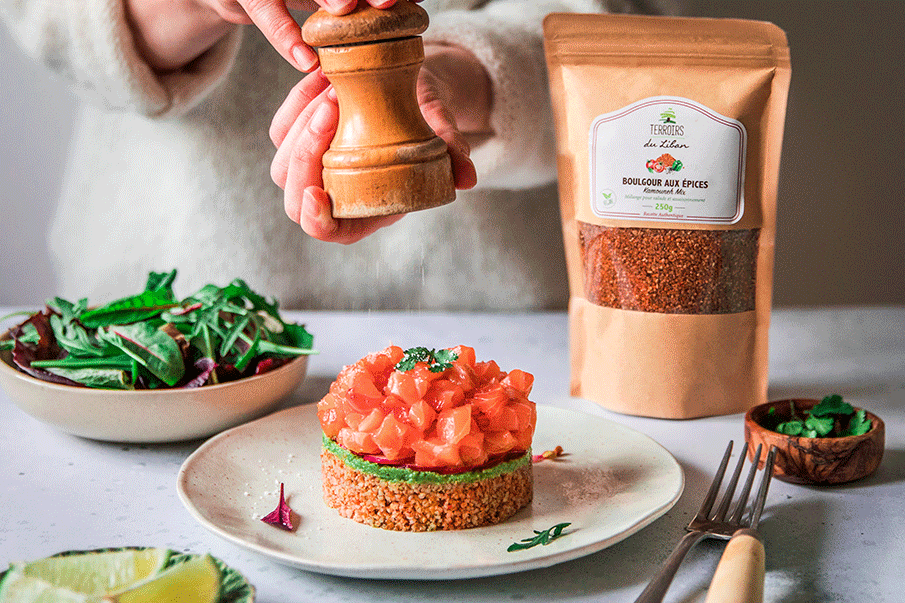 Salmon Tartare, Coriander Pesto & Kamouneh
Difficulty: Easy
Preparation time: 45 mins
Resting time: 1h
For 2 people
Ingredients:
For the salmon tartare:
For the coriander pesto:
1 small bunch fresh coriander
1/2 garlic clove
2 tbsp olive oil
15g almonds
Preparation:
For the salmon tartare:
Cut the salmon fillet first into strips then into small cubes.
In a bowl, blend the salmon cubes, the olive oil, the lime juice, the salt and the pepper. Refrigerate for 30 mins.
In a mixing bowl, cover the kamouneh with boiling water. Let it soak for 15 mins then stir and season with 2 tbsp of olive oil and a pinch of salt and pepper. Refrigerate.
Slice the radishes using a mandolin then set aside.
For the coriander pesto:
Mix the coriander, the garlic clove, and the almonds in a food processor then place in a bowl.
Add the olive oil, stir and refrigerate.
For the set-up:
In a pastry cutter, put the kamouneh, the coriander pesto, the sliced radishes, and the salmon tartar together then refrigerate for 10 mins.
Remove the pastry cutter, then add some coriander leaves.
It's ready !