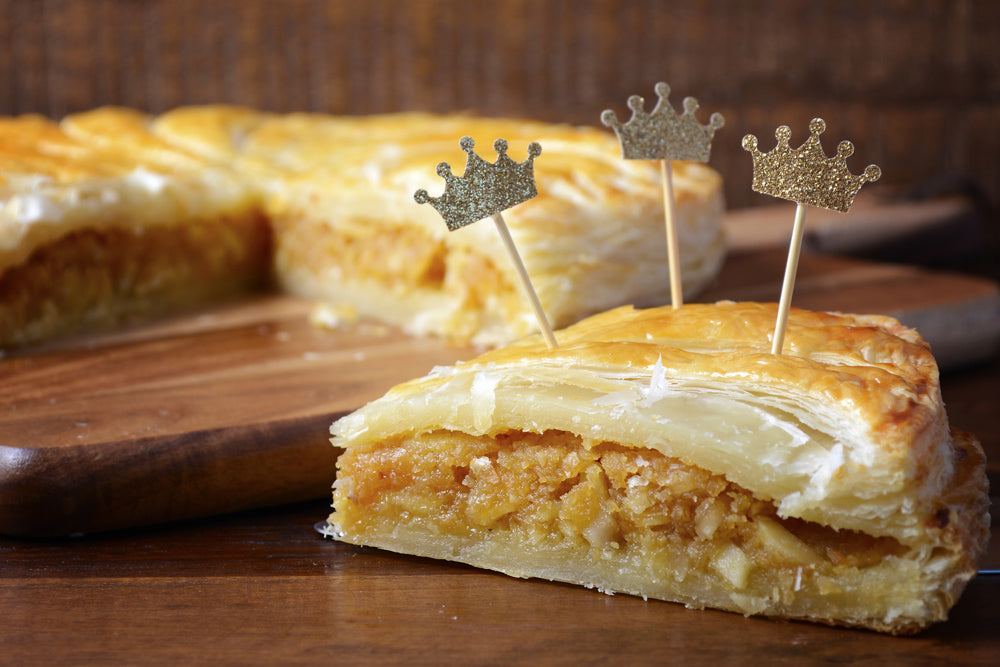 Galette des Rois with Orange Blossom Water
Difficulty: Medium 
Preparation: 10 minutes
Baking: 40 minutes
Total time: 50 minutes
For 10 people approximately
Ingredients:
120g of granulated sugar

120g of softened butter at room temperature

2 whole eggs

1 Tbsp. of liquid vanilla (optional)

200g of almond flour

2 Tbsps. of

orange blossom water

1 egg yolk (to brown the top)

2 round sheets of puff pastry
Preparation: 
Preheat the oven to 200°C.
Mix the sugar and the softened butter well using a whisk or by hand, then add the 2 eggs, vanilla, almond flour and orange blossom water.
Place the first sheet of puff pastry on parchment paper and pour the almond mixture in the center, making sure to not go all the way to the edges.
Place a small trinket ("fève" in French).
Carefully place the second round sheet of puff pastry on top, sealing the edges with your fingers or with a fork.
Using a knife, create a nice design without piercing the dough.
Before placing it in the oven, use a pastry brush to coat the top with egg yolk.
Bake for 40 minutes at 200°C.
May the king be revealed !