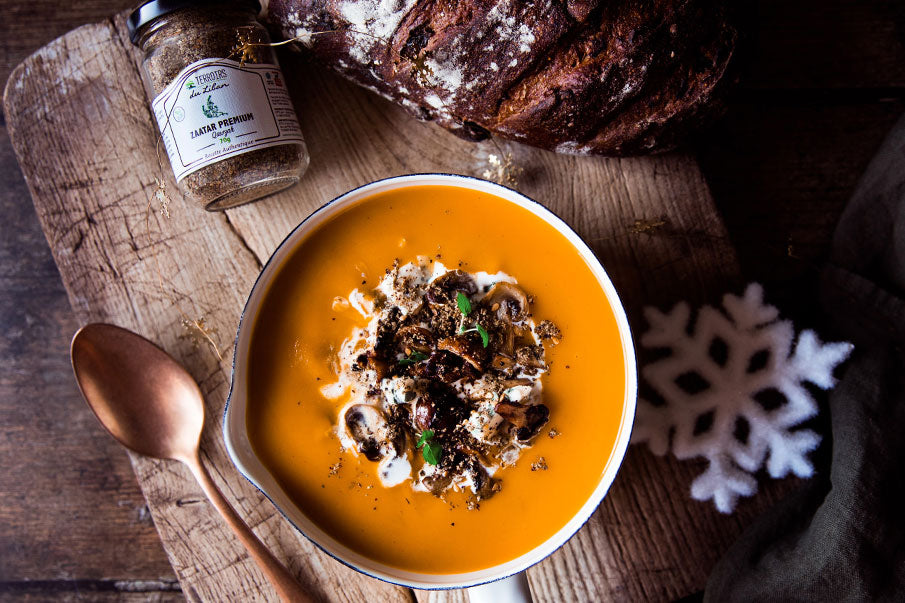 Creamy Winter Vegetable & Zaatar Soup
Difficulty: Easy
Preparation time: 15 mins
For 6 people
Ingredients:
1 tsp of zaatar premium qawzah
150 g peeled chestnuts
3 carrots
1 kg pumpkin
100  g fourme d'Ambert cheese
100 g mushrooms
25 cl cream
1 tsp

olive oil

1 pinch salt and pepper
Preparation:
Cut up the carrots, pumpkin and one onion.
Add the cream, zaatar, salt and pepper, then mix.
Mince the second onion.
In a hot frying pan, pour the olive oil and fry your minced onion with the 50 g of chestnuts, the mushrooms and 2 pinches of zaatar for 8 minutes.
Pour the soup into bowls, add the pan-fried mixture and a few pieces of Fourme d'Ambert cheese.
It's ready!