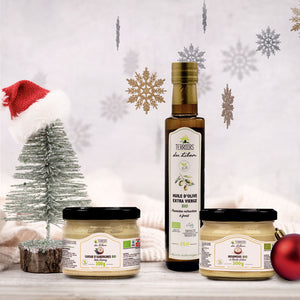 Product Description
Ingredients
Organic Baba Ghanouj 300g
Made with organic eggplants grown in an organic farm located in northern Lebanon, Baba Ghanouj is an oven-roasted eggplant-based dip with savory smoky notes. It makes a great party appetizer, particularly for guests on special diets.

Organic Hummus 300g
Our organically grown chickpeas are the main ingredient of this creamy and earthy Middle Eastern dip. It's tasty, vegan, full of fibers and proteins, and is usually accompanied by pita bread or crunchy fresh vegetables.

Organic Extra Virgin Olive Oil 25cl
Rich in minerals, antioxidants and healthy fats, our extra virgin olive oil is produced by the Qlayaa cooperative in southern Lebanon, which specializes in olive growing and oil production. It can be drizzled on dips, salads and in cooking most dishes.
Organic Baba Ghanouj 300g
Organic eggplant (65%), organic SESAME paste (20.5%) (origin: Egypt), water, salt, acidity regulator: citric acid.

Organic Hummus 300g
Organic chickpeas, water, organic sesame paste, organic olive oil, GMO free citric acid and organic garlic.

Organic Extra Virgin Olive Oil 25cl
100% extra virgin olive oil.