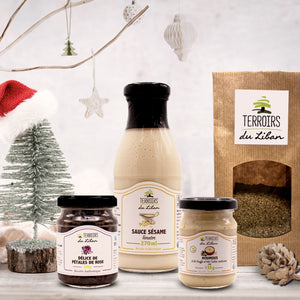 Product Description
Ingredients
Rose Petals Jam 180g
Made with handpicked roses grown in the Bekaa valley, our rose petals jam is prepared by a women's cooperative using a generation-old recipe. It pairs perfectly well with oriental sweets or drizzled on top of yoghurts, ice-creams and milk puddings.

Sesame Sauce - Tarator 270ml
Shake well, pour, enjoy! Tarator is a creamy, ready-to-use sesame-based sauce. This condiment is ideal for enhancing all kinds of dishes, sandwiches and salads.

Hummus with Truffle 135g
Considered one of the utmost culinary delicacies, truffles add an earthy and nutty flavor to this traditional Lebanese dish. Hummus with summer truffles is best served with a drizzle of extra virgin olive oil and enjoyed with fresh pita bread or crackers.

Zaatar Lebanese Mix (Free Sample)
Our Zaatar Lebanese Mix includes the flower of zaatar plant (Origanum syriacum) only, carefully harvested by hand, giving the mix a clean, delicate, and highly aromatic fragrance. Serve with olive oil and bread or pair with meats, salads, cheeses and pizzas.
Rose Petals Jam 180g
Rose petals, sugar, water and citric acid.

Sesame Sauce - Tarator 270ml
Water (59.6%), tahini (roasted hulled SESAME seeds (origin: Sudan)) (39%), salt, acidity regulator: citric acid.

Hummus with Truffle 135g
Cooked chickpeas, water, sesame paste, summer truffle (tuber aestivum, 3% flavored), salt, garlic and citric acid.

Zaatar Lebanese Mix (Free Sample)
Roasted sesame, oregano (Origanium syriacum), sumac, salt.